Montreal Restaurant Guide and other information
---
Montreal is a city of cultural diversity with over 5000 restaurants. In order to enjoy some of what this city has to offer, I have put together an informal guide of some of the interesting places that the McGill group frequents. All of these restaurants are walking distance from McGill Campus. Following this guide, we have a few links to more comprehensive restaurant guides as well as general guides on what to do while in Montreal. Below you will find a map of the downtown core which will enable you to locate most of the restaurants described below. This map is taken from the Montre@l e-Guide.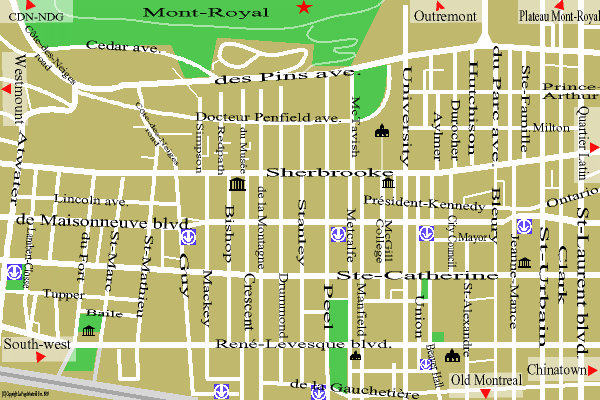 Let's start with breakfast. Eggspectations (1313 Maisonneuve West, corner De la Montagne) and Chez Cora (1425 Stanley, corner Sherbrooke) are two restaurants that specialize in a wide variety of breakfast and brunch dishes.
As you'll notice very quickly, downtown Montreal is sprinkled with cafes, another interesting place to enjoy breakfast, lunch or even dinner. The main franchised cafe chains include Second Cup (1800 McGill College, 2200 McGill College, 1122 Ste Catherine W. corner Peel, 1602 Ste Catherine W. corner Guy, 625 Ste Catherine W. corner St. Denis), Starbucks (1171 Ste Catherine W. corner Peel), and A.L. Van Houtte (1616 Ste Catherine W corner Guy, 1255 McGill College, 2000 McGill College, 1538 Sherbrooke W corner Stanley). All serve reasonable coffee and decent snacks. Some other interesting cafes to note are Olio (3407 Peel corner Sherbrooke) and Brulerie St. Denis (2121 Drummond, in the Alcan Building) , both of which serve good coffee and more hearty meals. Finally, you can get great coffee and sandwiches at Cafemania (677 Ste Catherine W in the Eaton center).
For a quick lunch, you can head over to one of many food courts. The most interesting in terms of diversity in choice is the one located on the third floor of the Faubourg Ste. Catherine (1616 Ste Catherine W. corner Guy). The Eaton Centre (677 Ste Catherine W. corner University) is the regular McGill group lunch hangout.
Well, what about somewhere you can sit down for dinner? Montreal is famous for its smoked meat. There are several restaurants specializing in smoked meat including Schwartz's (3895 St Laurent corner Duluth), Ben's (990 Maisonneuve W corner Metcalfe) and Nickel's (670 Ste Catherine W in front of the Eaton Centre). If you are vegetarian, have no fear, check out Le Commensal (1204 McGill College) where you pay by the gram. The desserts here are amazing! If you feel like Japanese cuisine, we recommend either Katsura or Sakura Gardens (both located on De La Montagne between Sherbrooke and Ste Catherine). For Thai, try Phaya Thai (located on Guy just south of Ste Catherine). For Italian, there's Weinstein and Gavinos, Pizziaole (both located on Crecent between Sherbrooke and Ste Catherine) or Amelio's (201 Milton). For French, there's Le Paris (1812 Ste Catherine W just past the Faubourg Ste Catherine). For Indian Food, try Bombay Palace (Fort corner Ste Catherine). If you feel like chicken and ribs, Bar B Barns (1201 Guy just south of Ste Catherine) is the place for you. For standard fare, there's the Hard Rock Cafe (on Crescent), Moe's (1050 de la Montagne corner Ste Catherine), and Planet Hollywood which just opened in Place Montreal Trust.
If you want to explore the town a little while trying to find a restaurant that's appealing to you, the following streets may be of interest. Prince Arthur street (from St. Laurent to St. Denis) is for pedestrians only and lined with many different restaurants. There are many street performers and artists. Definitely somewhere worth visiting. Duluth street is similar but on a smaller scale. Crescent street (between Sherbrooke and Ste Catherine), St Laurent street (between Prince Arthur and Rene Levesque) and St Denis street are all lined with restaurants, bars and cafes making them interesting streets to explore for evening social activities. Ste Catherine street from Guy to St Denis is also very lively and interesting. In fact, most streets running between Ste Catherine and Sherbrooke are quite interesting.
We've only scratched the surface here. Below, I've listed a few links that offer more comprehensive reviews of Montreal restaurants as well as general guides on what to do while in Montreal. A few places to note are Old Montreal, the Mont Royal, the Latin Quarter, China Town, Ile Notre Dame, the Olympic Stadium. If all else fails, grab someone from McGill or McGill Alumni and they will surely point you in the right direction. One final note, before leaving, you must try POUTINE. It's a french canadian delicacy!
Links
If you have comments or suggestions, email me at jit@scs.carleton.ca